Walking tour around Syros island
Syros offers many opportunities for hiking, with trails that combine natural beauty, culture and tradition.
A walk in Ano Syros, which dominates above Ermoupolis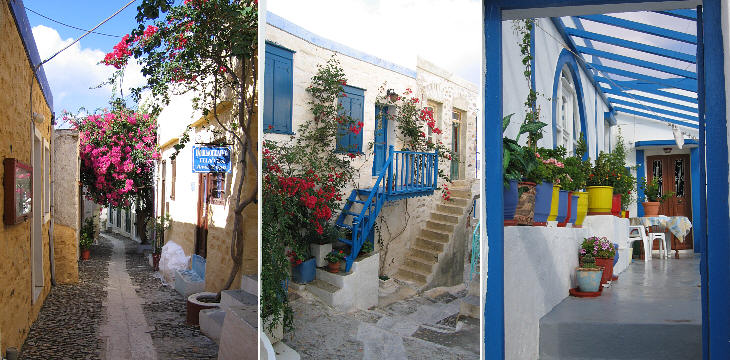 gives a glimpse of another era. Ano Syros is a medieval city center, amphitheatrically built on the hill of St. George (San Giorgio). Countless steps raise you to the top, surrounded by narrow streets with whitewashed houses with colored doors composing another state. Inside the medieval settlement of Ano Syros vehicles do not circulate, because the streets are very narrow and there are stairs everywhere. The breathtaking view of the sea is unique, giving visitors the opportunity to enjoy the blue Aegean.
A tour in Posidonia /Dellagrazia, once the summer resort of the wealthy inhabitants of the island during the industrial prosperity of Syros in the 19th century . In Posidonia, one can admire the magnificent mansions in gardens that add a unique beauty to the village, retaining its old splendor.
For the lovers of hiking in nature, there are many signposted and non-signposted routes in the north part of the island, passing from a protected location that has been included in the network Natura 2000, as well as in the south area of Syros. The northern part of the island, Apano Meria, is of particular interest because it differs morphologically from the rest of the island. It is the only part of the island that you see limestone rocks, unlike the rest of the island which is covered by volcanic rocks. Also by these rails, the northern beaches of Syros can be accessed, which, due to the lack of roads, are small deserted beaches perfect for those seeking seclusion and tranquility. Some of the beaches worth visiting are Grammata, Lia, Aetos and Varvarousa.
In the southern part of Syros there are also interesting routes, but they are not signposted. One of them is the trail to the St. Stefanos, a small catholic church built inside a cave in Galissas. The cave of St. Stefanos is accessible also by boat. As interesting is the route from Foinikas to Atsinganokastro. This route starts from Foinikas Beach following the road to Kokkina beach, passing bytwo beautiful beaches, and ends at cape Atsinganokastro, walking up the mountain and admiring the blue Aegean.
At Syros it has been created Syros Hiking Team, a group of people with a love for walking, which makes considerable effort to list all the paths on the island. The team apart from recording tracks also organizes group activities and hikes. For more information on trails and activities visit the link below. (www.hikingteam.gr)